For the last post of this year (GASP!) I wanted to share two ads from the December issue of Instyle magazine {as you know from
here
it's one of my 3 all time favorite magazines} that I thought were just beautiful and spoke loud to this 'pretty things/great ads' loving girl :)
While we're on the topic was I the only one who thought someone was out to sabotage Carrie Underwood. Um..maybe I should explain that one....
The cover photo was one of the least flattering photos of her I've ever seen in my opinion!!
InStyle December 2010
Since when does flat hair look good on any country music star let alone Carrie? Haha - no but seriously it's just not a look that I would pick for her (full disclaimer: I'm a HUGE country music fan so occasional joke on their behalf allowed)
But back to the main issue, these two ads were featured in this month's issue and I just loved them for the visual punch they threw.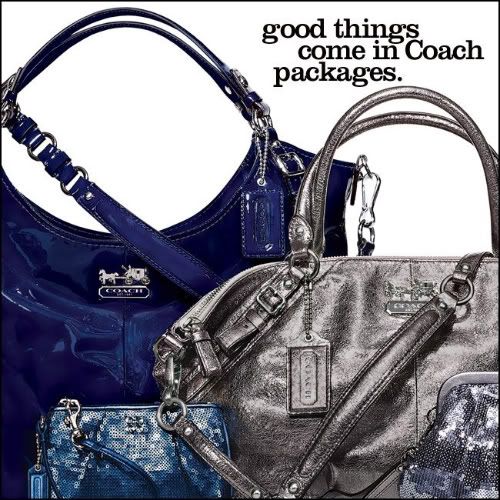 Coach Holiday 2010 campaign
I loved the blues, the silver and all the sparkle of this ad. Not to mention these bags look right up my alley, especially the two large ones in the back.
Miss Dior Cherie
The bright colors with the grey background and white boxes is stunningly striking! Coupled with the captivating look on her face I feel as though I could be in Paris right now!
P.s - I thought it only appropriate to share this last image with you. Since we're talking about beautiful ads and a Carrie this is very fitting....hehehe
Get Carried Away
No matter how lame that line was I thought it was pure genius! :)